The new post-graduate Master of Science program in International Health (MSc IH) is conducted by the Division of Infectious Diseases and Tropical Medicine - Teaching and Training Unit (T&TU) and the CIHLMU Center for International Health.
The MSc in International Health is designed for experienced health professionals. Thus, a minimum of 2 years prior work experience is required to be accepted to and benefit from this advanced program. The MSc focuses on health-related challenges in low- and middle-income settings. The interdisciplinary approach aims to provide students with knowledge in international and global health, covering global public health, infectious and non-communicable diseases, chronic diseases, health economics and politics. Furthermore, students will be trained in research methods and skills in order to conduct research for their MSc thesis.
With international participants and small groups, individual guidance will be provided and lectures take place in the beautiful city of Munich. Besides emphasizing an interactive teaching approach, we also strive to deliver lectures that cover contemporary research in International Health including critical appraisal and discussion of topics.
The MSc in International Health is a full-time program and cannot be undertaken or successfully completed on a part-time basis at this moment.
The MSc IH may be combined with the Diploma in Tropical Medicine and International Health (DTMIH). Please contact us if you are interested in this option.
Applications for the 2022/23 MSc IH program: The MSc IH Online Application Portal will be open from 01 December 2021 until 31 March 2022.
Info
Duration and Attendance: one year full-time (October – September), university-based and distance learning
Language of instruction: English
Qualification: Master of Science (MSc) in International Health
Awarding Institution: Ludwig-Maximilians-Universität München, Germany
Total Credits: 60 ECTS credit points
Tuition Fees: 6000 EUR per semester + approx. 150 EUR for LMU administration fee (payable to the LMU)
Course content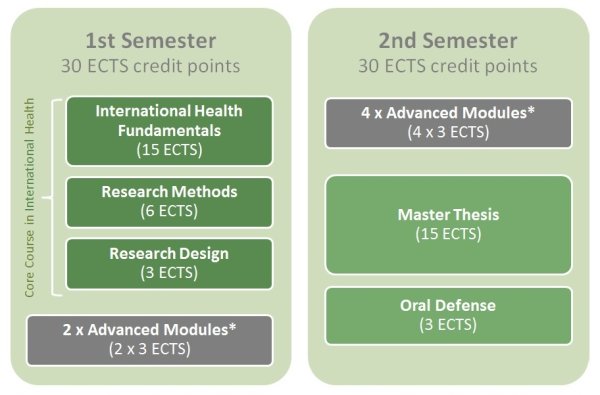 During the advanced part of their studies, students may take part in modules across the globe and select from a wide range of modules. The Teaching & Training Unit at the Division of Infectious Diseases and Tropical Medicine, CIHLMU Center for International Health, University Hospital of the Ludwig-Maximilians-Universität München currently offers 9 Advanced Modules with 7 modules taking place in Munich/Germany, one in Nepal and one in Ghana. Further information about currently available Advanced Modules can be found here.