African Medical Education and Research Network – AMEAR.CIH - Center for International Health
AMEAR (2021-2023) is a new project of CIHLMU , funded by Bayerische Staatskanzlei (Bavarian State Chancellery, Munich, Germany).
The vision of AMEAR is the formation of a network of African researchers in the field of Medical Education. Between other activities CIH.AMEAR provides funds for projects of African CIHLMU alumni and participants of the CIHLMU Ph.D program in 2022.
The Goals of AMEAR are:
to strengthen the medical and health professional education and research in African Higher Education Institutions
to demonstrate clinical or community relevance of health professional education
to foster an inter-institutional and interdisciplinary approach to health related education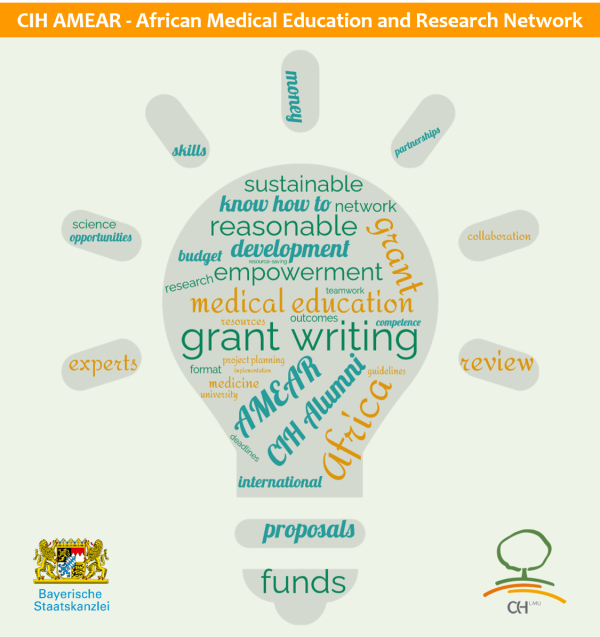 Who can apply for the CIH AMEAR Project Funds?
African graduates (alumni) of the following programs may apply for network funds:
MSc Integrated Clinical and Community Mental Health (MICCMH) at Jimma University
PhD International Health – Medical Research at LMU
MSc Health Professions Education (MHPE) at Jimma University
Projects involving at least two alumni from different institutions are given preference
Projects involving at least two alumni from different countries in Africa are given preference
PhD candidates currently matriculated at LMU in International Health-Medical Research may apply
The number of applications per institution is not limited.
Project duration:
Only activities that can be completed before August 31st, 2023 will be considered eligible. Therefore, it must be feasible to conduct the project within this period. All funds must be spent before this date, and legal invoices must be made available to the administrator on 30th of September 2023.
Timeline:
Submission Deadline: 05 February 2023 24:00h EAT
Announcement of selected proposals 27 February 2023
Project period until 31 August 2023
Final Written Report until 30 September 2023
Project presentation at AMEAR Congress End of October 2023
Call for Proposals:
Please find further details in the AMEAR CIH Network Funds - Call for Proposals 2023-3
Contact:
For more information, please contact amear.cih@lrz.uni-muenchen.de
Documents: